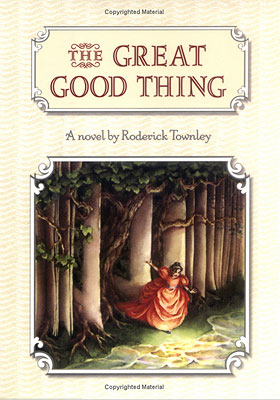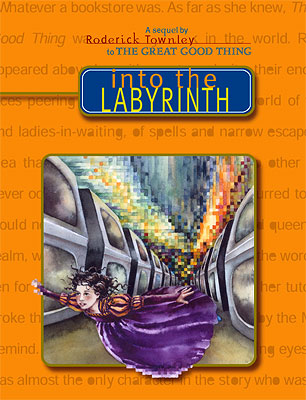 The Sylvie Cycle
The Sylvie Cycle tells us what we have long suspected, that storybook characters lead their own lives when the book is closed.
The Great Good Thing, the first book in the trilogy, leads us through inner space (the Reader's dreams).
Into the Labyrinth takes us into cyberspace.
Finally, The Constellation of Sylvie blasts us into outer space.
Rights sold in · Britain · Germany · China · Japan · U.S.A. (original) · U.S.A. (new)
THE GREAT GOOD THING
Sylvie had an amazing life, but she didn't get to live it very often.
Sylvie has been a 12-year-old princess for more than 80 years, ever since the book she lives in was first printed. She's the heroine, and her story is exciting—but she longs to explore the world beyond the margins of her book. Her fantastic journey begins when she looks up at the Reader…
"Utterly winning...Townley has created that most impossible thing: a book beloved from the first page."—KIRKUS REVIEWS (starred review)
"If all books for young readers were written this well, we all would want to remain young readers forever."—THE KANSAS CITY STAR
"Every now and then a book comes along that will stay with the reviewer forever. The Great Good Thing is one of those books....Sure to become a classic."—VOYA
"I loved The Great Good Thing! It's a marvelous book that does all the horizontal and vertical things a great story can do.... I felt the constant layered mystery in every sentence." - ANDREI CODRESCU
Top Ten Best Children's Books — ABA's Book Sense 76
A VOYA'S Best Fiction Book
Scholastic "Literary Circle" Book Club pick
Into the Labyrinth (book 2)
"A brilliantly imagined sequel."
Sylvie's storybook is republished and suddenly there are lots of Readers—especially when the e-book appears. But a malicious force is at work, and Sylvie & friends must launch themselves deep into cyberspace to face a 21st-century evil that threatens to destroy their world.
"Townley takes the ingenious conceit of his Great Good Thing to a new level in this sequel....A grand, tongue-in-cheek adventure."—BOOKLIST
"Into the Labyrinth is wonderfully imaginative, delightfully narrated, a pleasure to read….a fable for the Information Age."—THE KANSAS CITY STAR
"A hopping fine read."—THE NEW YORK TIMES BOOK REVIEW
"Sylvie is an appealing, thoughtful, and involving heroine, pulling the fast-paced plot to its satisfying conclusion."—SCHOOL LIBRARY JOURNAL
"Townley plays wonderfully with ideas in vivid, sparkling language.... A brilliantly imagined sequel."—KIRKUS REVIEWS
Best Children's Books—ABA's Book Sense 76
Top 100 Noteworthy Books, The Kansas City Star
Winner, The Thorpe Menn Award
The Kansas Governor's Arts Award
The Constellation of Sylvie (book 3)
"As clever and captivating as its predecessors..."
The Great Good Thing is tucked into a time capsule, and Sylvie & friends blast off toward Jupiter! Here they must learn to act out their story while floating weightlessly off the pages. If their life is bizarre, it turns dire when the spaceship misses reentry to Earth's atmosphere. How can Sylvie save the doomed ship, the astronauts she has grown to care for, and even the book she lives in?
"A textured, well-crafted blend of adventure and science...Reason to celebrate."—CHILDREN'S LITERATURE
"The quick pacing and easy reading add to an already witty blend."—SCHOOL LIBRARY JOURNAL
"As clever and captivating as its predecessors..."—KIRKUS REVIEWS
"Again, Townley is swaying out there in the wind on that literary tightrope--only now he hops on one foot while juggling a blind owl, a transparent fish, and a tortoise--and making his efforts look easy...A fine performance that carries readers where they did not know they wanted to go while showing them a wonderful time."—SUN NEWSPAPERS